Download your 30-day free trial of J. River MEDIA CENTER now.

MEDIA CENTER 10 Features
Organize and experience all your media



Music, photos, and video YOUR way -- all from a single software program! Connect your PC to your home entertainment hardware and control it all with a remote! Load your music on your iPod while you watch TV! All with one easy-to-use program -- MEDIA CENTER!
MEDIA CENTER 10

has a

new layout that includes a new skin, media mode controls, and an improved graphical Action Window. Here's what you will see: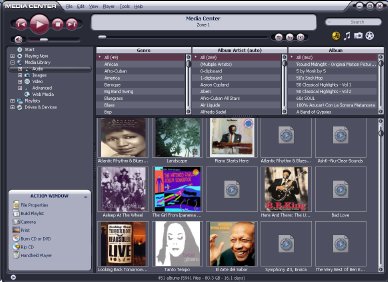 New in MC10 -- Improved Action Window
A graphical way to select commonly used actions like burning or tagging or transferring to a handheld. Just select an icon, then drag and drop your files to it. Windows can be minimized so tasks are easy to get to when you need them.
New in MC10 -- ThunderStorm by Pixtudio
A bold new Standard View skin by the famous skinning studio, Pixtudio.

New in MC10 -- Media Mode Buttons
Select only audio or video or images.

New in MC10 -- Streamlined Tree
A simplified organization structure provides a less cluttered look

New in MC10 -- 3D Visualizations
Spinning cubes, dancing boxes, snowballs from Duluth, all with cover art from the current music. And....there is 3D Pong!
Make your media part of your digital lifestyle

Copy your music from MEDIA CENTER to your digital audio player or move digital camera photos into MC's powerful image library. Make a CD of music for your car. Record your favorite shows and watch them on your TV. More than one soundcard? Play different music simultaneously in different rooms. MC's Media Server can even stream your music to your PC at work!


Camera and Images
Support for Canon and Kodak cameras and others that use the WIA interface. Almost all cameras are supported.

Image enhancement during slide show or for e-mail and web upload.

Display color images as black-and-white or sepia.

JPG, BMP, TIFF, and PNG support.

Acquire images opens window with imported files.

Digital Images

The main image screen, showing thumbnails of digital camera images. An optional properties window can be opened for details about each image.

Handheld Devices

For the iPod:
Single Click Synchronization of iPod audio and data with MC.
Apply Replay Gain to files on iPod
Dynamically adjust playback volumes
Audible file bookmarking
iPod playcounts, date last played, and rating transfer to MC from iPod.

For players that support synchronization or appear as a drive:
Drag and Drop on Handheld image in the Action Window
One click synchronization.

For players that appear as a drive:
Automatically create a folder structure based on tags
Designate a root directory

Other:
Support for handhelds that play Microsoft protected files.

DVD Burning
Burn up to 4.7GB of data, using the same process as a CD burn. Open the icon in the Action Window and drag your files to the DVD writer. Then click to see the queued files or begin the burn.

Cover View

MC has a new view showing album covers for audio tracks Note the new "My Computer" section of the organization tree, where you can browse your drives without leaving the application.
Remote control
Improved learning mode and additional commands
Theater View

The new full-screen mode. This XML based page can be customized. It is designed for use from across the room. The on-screen type is enlarged and navigation is simplified so it's easy to use with a remote.
PLAY your media YOUR way
Create a slideshow of your vacation photos, and add a music soundtrack from your song library. Get the party started with a playlist of hot tunes. Or let MC do the work by picking an Auto Smartlist, such as an hour of random music, a CD of MP3 favorites, an audio CD of recently played tracks.
Slideshow
Digital images can be screened in an automated slideshow. You can stop to zoom in on a single image, pan from side to side, and then resume. All with your favorite music playing in the background.
Slideshow options
Change the look of your slide show by altering the timing between images, transition effects and more.
Auto Smartlists
An hour of random music, a CD of MP3 favorites, an audio CD of recently played tracks, all tracks with empty properties. These and more are what "Auto Smartlists" are about.
Powerful TV Features
TV recording, pause, resume, fast forward and re-wind. MEDIA CENTER's Hairstyle mode is perfect for TV display. Control it using a remote device across the room or a PDA, PocketPC or TabletPC.
ORGANIZE your media YOUR way
Want to arrange your pictures by subject, date, and location? Categorize your music by artist, album, genre and assign a star-rating to your favorite songs? Or sort your videos by director, cast and year? Do it easily with the world's most powerful and flexible media library. Even add your own custom categories.
File Browser
A new section of the Organization Tree called "My Computer" lets you browse all your files and folders as with Windows Explorer. You can even see files you haven't imported and files on your portable music player.
Flexible views
You can add new "view schemes" under any media type so you can see your files, arranged as you want to see them.
CD and Track Lookup
J. River's YADB database is the most trouble-free and accurate database available for CD titles and tracks. Audio fingerprinting also lets you look up track names on individual tracks.
Extensive Tagging Capabilities
MC supports ID3v1 and ID3v2 for music. It supports J. River tags for photos. It can also import MusicMatch tags. You can fill the tags from the file names, re-name files from the tags, clean tags and much more. When the files are moved and re-imported, the organization is restored.
Many more features to help you take control of your media
DVD playback, multi-zone playback, ASIO output, cover art retrieval, Track info templates with cover art and lyrics, wide support for remotes, and many more great features. MEDIA CENTER has more power, flexibility and features than any other media player.